6:21 pm
In a six month span, we have a two-time winner.
Jake Dennehy, a Charity Region player, won the $10,000 April Championship.
A total of 162 players came out today for a piece of the prize pool and try to earn a "Wild Card" seat into the Season 33 Finals.
Jake won this event back in Oct at the September Monthly. Unfortunately, Jake is not around for an interview.
Jake's big hand of day and what helped him ease into this Final Table, was when he took 3/4 of Darrius' stack when Darrius bet his Jacks but ran into Jake's pocket Aces. Darrius DID make the Final Table tho!
We almost had a "Mother's Day" winner. Sonya Harrison finished second to Jake when his Ace high flush was better than Sonya's flush.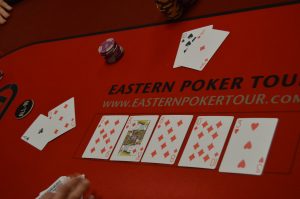 Andre Proctor (6th) and Jeff Bowden (3rd) both earned "Double Stacks" for the Season 33 Finals.
On behalf of Glen, Gretel, Craig and all of the EPT staff, we would like to say "Happy Mother's Day" to our ladies who are mothers.
Our next Monthly Championship will be on June 24. Right after the Bar Poker Open.
| | | | |
| --- | --- | --- | --- |
| 1st* | Jake Dennehy | CH | $2,500.00 |
| 2nd * | Sonya Harrison | SM | $1,650.00 |
| 3rd * | Jeff Bowden | CH | $1,200.00 |
| 4th * | Rich Rollka | GL | $800.00 |
| 5th * | Jack M. | CH | $600.00 |
| 6th * | Andre Proctor | RI | $500.00 |
| 7th * | Janet Martin | GL | $450.00 |
| 8th * | Charlie Arbeely | GL | $400.00 |
| 9th | John Worcester | CM | $350.00 |
| 10th | Darrius Brown | CH | $250.00 |
| 11th | Glenda Ricci | RI | $250.00 |
| 12th | Victor Cerqueira | CH | $250.00 |
| 13th | Dave Tkaczyk | CM | $200.00 |
| 14th | Jim Gardner | CM | $200.00 |
| 15th | Jhonny Ortiz | RI | $200.00 |
| 16th | Vijay Kesappamatti | CM | $200.00 |
| | | | |
| | * Season 33 Wild Card seat * | | |