6:45 pm
Sam Ho, a Charity region player, won today's Eastern Poker Tour $10,000 Monthly Championship.
Sam takes home $2500 and also gets a "Wild Card" seat into the Season 32 Finals.
One hundred eighty-five (185) players came to play for a chance to make it into the Top 16 for a piece of the prize pool.
Entering the Final Table, Sam was second in chips. "I had to change my style of play when we got down to two tables" says Ho. "I only played four hands until we got to the Final Table".
Very quietly, Sam knocked out 5 players on this Final Table including the "Dirty Diapers" hand.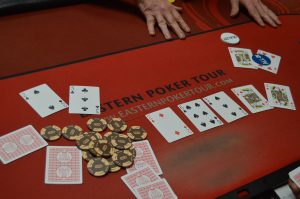 That would be deuce/three off-suit. When he won that hand, that was the hand that changed his momentum.
Sam worked his stack up 2.5 Million when he was heads-up with Mark Murphy.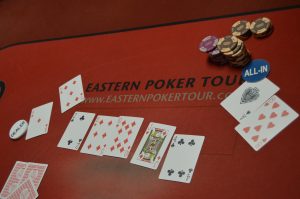 On the last hand of the night with the blinds at 100,000/200,000, Sam held A♦ 5♦ while Mark had A♠ 8♥. A diamond flush came on the turn for Sam to lock up win number 17.
Sam is currently playing in the WSOP League on Tuesday nights, where he could win a 2023 WSOP Main Event package.
Side Notes from the Final Table:
— Nancy St. Laurent made her THIRD Monthly Final Table this season.
— Jeff Parillo, who finished in 7th, now has a "Double Stack" for the Season 32 Finals. He earned his first stack last month finishing in 3rd place.
— Six players played in their first Monthly Final Table.
Our next Monthly will be at the VFW in Walpole on Saturday October 10th at 10am.
We hope to see you!
| | | | |
| --- | --- | --- | --- |
| | Players: 185 | | |
| | Name | Region | |
| | | | |
| 1st* | Sam Ho | CH | $2,500.00 |
| 2nd * | Mark Murphy | CH | $1,650.00 |
| 3rd * | Billy Lynn | SC | $1,200.00 |
| 4th * | Nancy St. Laurent | RI | $800.00 |
| 5th * | John Purdy | CM | $600.00 |
| 6th * | Brian Teahan | GL | $500.00 |
| 7th * | Jeff Parillo | CH | $450.00 |
| 8th * | Bethany Parker | GL | $400.00 |
| 9th | Matthew Costa-Rodrigues | RI | $350.00 |
| 10th | Paul Prusik | SM | $250.00 |
| 11th | John Foley | SM | $250.00 |
| 12th | Robert Copp | GL | $250.00 |
| 13th | Kevin Su | NS | $200.00 |
| 14th | Robert Walker | SM | $200.00 |
| 15th | Mike Dessault | CH | $200.00 |
| 16th | Ric Santuri | RI | $200.00 |
| |  * Wild Card Seat into Season 32 Finals* | | |