5:56 pm
On what was a B-E-A-utiful day outside, 183 players came to the Walpole VFW for the Season 32 April $10,000 Monthly Championship.
First timer Andrew Camacho, from the South Coast region, battled heads-up against Nancy St. Laurent for almost an hour and came out on top.
Andrew has only been playing in the Eastern Poker Tour since October 2021. This is his 3rd win!
For his efforts, he takes home $2500 and a "Wild Card" seat into the Season 32 Finals.
Andrew was the chip leader from the start of the Final Table and never looked back. "My goal coming to the Final Table was to make it to the Top 3", said Camacho.
Andrew said that he took a big hit early in the day and had to grind it out to make it "a long day". His buddy Damien Perry was his railbird the entire Final Table and was happy to see him win his first Monthly.
This is Andrew's biggest win in a tournament!
This Final Table was headlined by not by 1. Not by 2. But 5 women! Let it be known that when we were down to 6 tables, our blogger told a few of these women that this table would have no less than 5 women. At the time of that statement, 6 women had the Top 10 chip stacks.
Three players (Kourtney Sims, Simon Winchell-Manning, and Andrew Camacho) had never been to a Monthly Final Table.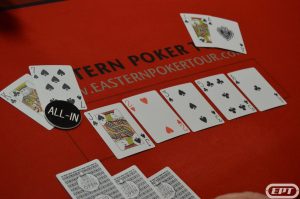 With the blinds at 60,000/120,000, Nancy was down to 700,00 and was 4-1 against Andrew. Nancy moved all-in with K♠ 7♠ and was quickly called by Andrew with A♠ J♣.
A Jack falls on the flop and no King was to be found on the turn or river which ended Nancy's run today.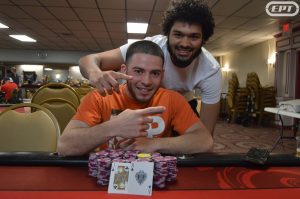 That's a wrap for today.
Our next Monthly will be on June 25th right here at the Walpole VFW at 10am.
Hope to see you in June!
| | | | |
| --- | --- | --- | --- |
| | Players: 183 | | |
| | | | |
| | Name | Region | |
| | | | |
| 1st* | Andrew Camacho | SC | $2,500.00 |
| 2nd * | Nancy St. Laurent | RI | $1,650.00 |
| 3rd * | Cameron McBean | NS | $1,200.00 |
| 4th * | Rhonda Sasa | RI | $800.00 |
| 5th * | Judi Pitasi | CM | $600.00 |
| 6th * | Kourtney Sims | RI | $500.00 |
| 7th * | Sam Fernandez | GL | $450.00 |
| 8th * | Simon Winchell-Manning | SM | $400.00 |
| 9th | Rich Stepanian | RI | $350.00 |
| 10th | Sue Mercier | GL | $250.00 |
| 11th | Anthony Taglieri | SM | $250.00 |
| 12th | Luis Rebello | RI | $250.00 |
| 13th | Francesco Therisod | SM | $200.00 |
| 14th | Scott Johnson | CM | $200.00 |
| 15th | Mike Rielly | SM | $200.00 |
| 16th | Ronald Bussiere | CM | $200.00 |
| |  * Wild Card Seat into Season 32 Finals* | | |