1:35 pm
Blinds – 3000/6000
On the last hand of the level, Nikki was under the gun and shoves for her last 25K. She gets 3 callers, one of which was shorter than her.
Nikki has A♦ A♠
Kurt Heitman has A♣ Q♠
Rich Maloney has K♣ J♥
Keri  has Whalen had Q♣ 9♣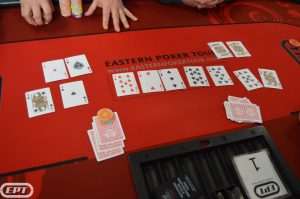 A nine hits the flop which made things interesting if a queen comes. A 10 hits the turn which now had the players figuring out what he/she needs to win. An eight falls on the river to give Nikki the "Main Pot" and knocks out one player.
Will she make it to the Final Table?