5:52 pm
While the air was a bit chilly outside, the action on the poker tables here at the Walpole VFW was HOT HOT HOT!. One hundred sixty-one players came to try their luck for the $10,000 prize pool and to earn a seat into the Season 31 $50,000 Finals.
The Eastern Poker Tour's winningest player, Ronnie Smith from Wrentham, Mass.  won taking home $2500 and a seat into the Season 31 $50,000 Finals.
The final table started nine handed because of a double elimination just before the Final Table and Ronnie was fifth in chips coming to the table. "I just wanted to play smart and not do anything stupid" says Smith. "My goal is to always win" as he talked about once making the final 8.
The biggest hand of day for Ronnie was when he moved all-in with Ace/Queen against John Quirk's pocket Kings. An ace came on the flop to knock out John.
When it became heads-up with Ray Quinton, stacks were almost even and it didn't take long before we had a winner.
Here is a photo of the last hand: Blinds were 50,000/100,000 at the time.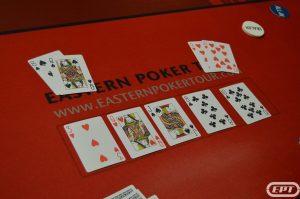 Ronnie had 9♥ 10♥ vs Ray's Q♠ 8♠. Ray needed an eight or a queen to take down the pot on the river, but it was not meant to be as a 10♣ came.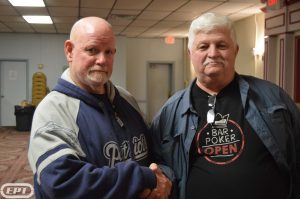 Ronnie's "rock" Nada was with him the entire day because just 10 days ago, Ronnie had emergency surgery. He is doing good and came back to tables this past Thursday.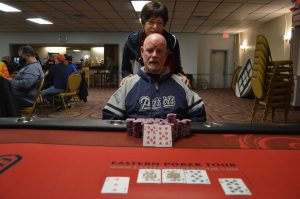 Side Notes:
—  This Final Table was the "fastest" Final in a few seasons. The Final table was only 65 minutes long!
— Bill "Milkshake" Acerra made his 2nd consecutive Final placing 4th or better
Glenn, Gretel, Craig and the rest of the Eastern Poker Tour staff would like to thank everyone for coming out and playing in today's event. We hope to see everyone for the special events pre and post Thanksgiving. Please check you region for time and location.
Our next Monthly will be right here on December 18th!
Happy Thanksgiving everyone!
Players: 161
| | | | |
| --- | --- | --- | --- |
| 1st * | Ronnie Smith | CM | $2,500.00 |
| 2nd * | Ray Quinton | SC | $1,650.00 |
| 3rd * | Bill "Milkshake" Acerra | CH | $1,200.00 |
| 4th * | Richard Nawcichik | GL | $800.00 |
| 5th * | Patrick Banyaniye | RI | $600.00 |
| 6th * | Brian Taylor | CH | $500.00 |
| 7th * | John Quirk | RI | $450.00 |
| 8th * | Thomas Drozewski | NS | $400.00 |
| 9th | Rich Maloney | SM | $350.00 |
| 10th | Billy Scott | GL | $250.00 |
| 11th | Susan Carpenter | RI | $250.00 |
| 12th | Alan Lopes | SM | $250.00 |
| 13th | Steve Bolton | SC | $200.00 |
| 14th | Andre Proctor | RI | $200.00 |
| 15th | Mark Smith | RI | $200.00 |
| 16th | Hank Landry | CM | $200.00 |