7:02 pm
On what was a beautiful day outside, 178 players came to the Walpole VFW to play for a share not only the $10,000 prize pool but also for a seat in the Season 31 $50,000 Finals.
Linda Rodrigues, from the Southern Mass. region, played her heart out and won the Season 31 September $10,000 Monthly Championship earning herself $2500 AND a seat into the Season 31 $50,000 Finals.
Linda is no stranger to winning the Monthly tournament. She won this same event almost 2 years to the day
Coming to this Final Table, she was 3rd in chips. "My goal was to make it to the Top 8 then "play poker" said Linda. When she got heads-up with Jim Petrillo (CM), the hand that made her night was when she went all-in with jacks and got quickly called by Jim's pocket 10's. The jacks held up and Jim was down to 3 big blinds. On the very last hand of the night Jim moved with Nine/Ten off suit and Linda quickly calls with what else…pocket ACES!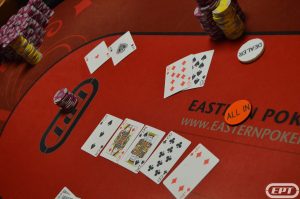 Below are the results from today's tournament.
Players: 178
| | | | |
| --- | --- | --- | --- |
| 1st * | Linda Rodrigues | SM | $2,500.00 |
| 2nd * | Jim Petrillo | CM | $1,650.00 |
| 3rd * | Thomas Walsh | RI | $1,200.00 |
| 4th * | William "Milkshake" Acerra | CH | $800.00 |
| 5th * | Keith Bettencourt | NS | $600.00 |
| 6th * | Thomas Drozewski | NS | $500.00 |
| 7th * | Richard Orszulak | GL | $450.00 |
| 8th * | Mark Parshley | SM | $400.00 |
| 9th | Frank Herzog | CM | $350.00 |
| 10th | Mike Sullivan | RI | $250.00 |
| 11th | Robert Copp | GL | $250.00 |
| 12th | John Woodsmall | FR | $250.00 |
| 13th | Jorge Baptista | SC | $200.00 |
| 14th | Simon Szeto | SM | $200.00 |
| 15th | Justin Colon | RI | $200.00 |
| 16th | Jennifer Baigorria | NS | $200.00 |