7:29 pm
On what was a beautiful day outside on what is a somber day in American history, "Girl Power" reigned this Final Table at the VFW in Walpole.
Charlene Cruz, from the Greater Lowell region, won today's Eastern Poker Tour Season 31 August $10,000 Monthly tournament taking home $2500.
Cruz, who is no stranger to being in the Monthly's was amongst 7 players at this "Final Table" who have never made a Monthly Final Table. "I wasn't nervous at all being the chip leader. Just needed to play the right cards at the right time".
Her stack was never really in danger except for one hand which Josh Heafey's Kings cut Cruz's stack in half with her Ace/seven. She would soon get her revenge on Heafey and knocked him down to two 10,000 chips after her set of eights crushed Heafey's Kings. "I knew he had big cards by the way he was playing all day. I had to go with my gut and hope to hit it."
When it got down to heads up play versus Sam Fernandez, she stepped on the pedal and never looked back.
Below is a photo of the last hand. You will see that Charlene was behind until the ace came on the river to give her the "W".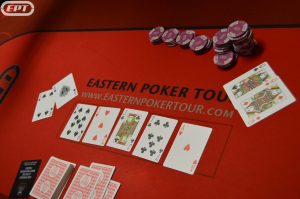 She qualified for today via points in the Greater Lowell region. "I have had no wins since we restarted since COVID".
Now she has a monkey off her back.
Charlene wants to thank Anthony Smith and the rest of players for stopping by the Final Table and rooting her on to victory. "Everyone was so supportive".
That will wrap up today's event and we will see everyone again on Oct 23rd, 2021 right here at the VFW in Walpole.
Players : 180
| | | | |
| --- | --- | --- | --- |
| 1st * | Charlene Cruz | GL | $2,500.00 |
| 2nd * | Samuel Fernandez | GL | $1,650.00 |
| 3rd * | Javier Romero-Avila | SM | $1,200.00 |
| 4th * | Josh Heafey | SM | $800.00 |
| 5th * | Paul Prusik | SM | $600.00 |
| 6th * | Billy Francis | SM | $500.00 |
| 7th * | Paul Shibles | GL | $450.00 |
| 8th * | Gary Lifton | NS | $400.00 |
| 9th | Michael Melo | SC | $350.00 |
| 10th | Al Ciccarone | RI | $250.00 |
| 11th | Tim Smith | | $250.00 |
| 12th | Gloria Lambert | | $250.00 |
| 13th | Sonia DaSilva | | $200.00 |
| 14th | Michael Parker | | $200.00 |
| 15th | Geno Golisano | | $200.00 |
| 16th | Richard Collier | | $200.00 |
— Won a "Wild Card" seat into the Season 31 Finals