7:19 pm
Coming into the Final Table, Ken Horbert Jr. from Providence, Rhode Island was the chip leader and never looked back locking up his 2nd Eastern Poker Tour $10,000 Monthly Championship. His first was back in 2018 for the May $10,000 Monthly Championship.
With a field of 198 other players, Ken was on cruise control during the day. Never behind when he got his chips all-in.
"My goal was to play good and not make any mistakes on this Final Table" says Horbert Jr. "I wanted to play my game". He knocked out 3 players.
At any given time, Ken was 2 to 2.5x on chip stacks versus other players on the Final Table. When the blinds were at 80,000/160,000 Horbert found himself in a long heads-up battle with Paul Farrow.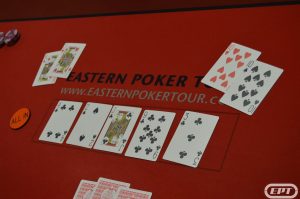 The picture above shows the final hand when Farrow went all-in with 10♥ 10♠ and Horbert Jr. had K♦ J♥. A jack came on the flop and no ten was around to help Farrow.
For his efforts, Ken takes home $2500 and a "Wild Card" seat into the Season 30 Finals coming in April 2022.
His good luck charm Patrick Banyaniye was by his side during this Final Table. "I learned a lot from Patrick. He's a good friend and a tough poker player."
This tournament now concludes Season 30.
Our next $10,000 Monthly will be on September 11, 2021 and that will be the first Monthly for Season 31.
Glenn, Gretel and Craig and the rest of the tournament staff would like to say "Thank You" to all who came out today and played.
Players: 199
| | | | |
| --- | --- | --- | --- |
| | Name | Region | |
| | | | |
| * 1st | Ken Horbert Jr. | RI | $2,500.00 |
| * 2nd | Paul Farrow | NS | $1,650.00 |
| * 3rd | Shawn Wilder | CM | $1,200.00 |
| * 4th | Louis Barobsa | GL | $800.00 |
| * 5th | Wil Porter | CH | $600.00 |
| * 6th | Jim Sylvia | SC | $500.00 |
| * 7th | Yianni Emmanouilidis | CH | $450.00 |
| * 8th | Rich Clune | CM | $400.00 |
| 9th | Alex Rancourt | SM | $350.00 |
| 10th | Gloria Lambert | RI | $250.00 |
| 11th | Joe Colton | SC | $250.00 |
| 12th | Susan Mercier | GL | $250.00 |
| 13th | Rob Stiegman | CM | $200.00 |
| 14th | Susan Pell | FR | $200.00 |
| 15th | Jeff Pimentel | CM | $200.00 |
| 16th | Charlene Cruz | GL | $200.00 |
| | | | |
| * | Season 30 "Wild Card Seat" | | |