6:51 pm
Nancy St. Laurent from Swansea, Mass. battled against 130 other players playing for a piece of the $10,000 prize pool and won taking home $2500. She also locks up a seat in the Season 30 Finals coming in April 2022.
St. Laurent plays in the RI region and loves playing in all the RI venues.
Coming into this Final Table, Nancy was 4th in chips. "I went with my feelings when I had the better hand", says St. Laurent. She went on by saying that every time was up against Earl (Bower) she said that "I had to go with my gut. He's a good player."
She also said that she "wasn't scared playing this table".
Nancy is no stranger to winning Monthly's. The September (2017) Monthly was the first Monthly she won.
When asked what is she going to do with the money, she quickly said, "I'm paying bills. I just bought a house so this will help".
The second place finisher Zach Curro was so happy that she won, he went over to give her a hug. "If I was going to lose, I wanted to lose to Nancy, she's a good player". says Curro.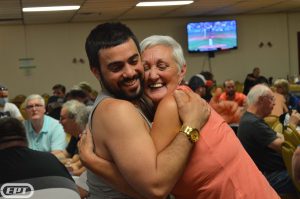 Here is a photo of the last hand: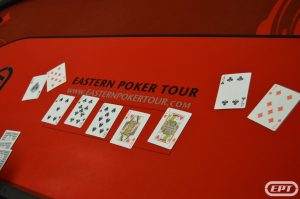 Here are the results from today's event:
Players: 131
| | | | |
| --- | --- | --- | --- |
| 1st | Nancy St. Laurent |  RI | $2,500.00 |
| 2nd | Zach Curro | CM | $1,650.00 |
| 3rd | Earl Bower | FR | $1,200.00 |
| 4th | Tim Leonard | RI | $800.00 |
| 5th | Billy Burwick | FR | $600.00 |
| 6th | John Worcester | CM | $500.00 |
| 7th | Sonya Harrison | SM | $450.00 |
| 8th | Rob Stiegman | CM | $400.00 |
| 9th | Paul Shibles | GL | $350.00 |
| 10th | Stephen Affonce | SC | $250.00 |
| 11th | Will Unruh | NS | $250.00 |
| 12th | William Brissenden | NS | $250.00 |
| 13th | Anthony Smith | GL | $200.00 |
| 14th | Sonia DaSilva | RI | $200.00 |
| 15th | John Beady | SM | $200.00 |
| 16th | Francesco Therisod | SM | $200.00 |